Differentiation of access rights
Set up individual access profiles for individual employees, group employees into groups and create different security classes for access to contacts and deals.
Convenient work with contacts
All information related to the contact is stored in a convenient and accessible form. Contacts are easy to group into segments - manually assembled or filtered according to various criteria, for example: read the latest newsletter, did not order 2 months. Segments are used to perform quick group actions with contacts and to view reports.
For contacts, you can create reminders to promptly offer a second purchase or simply remind the client about themselves and their services.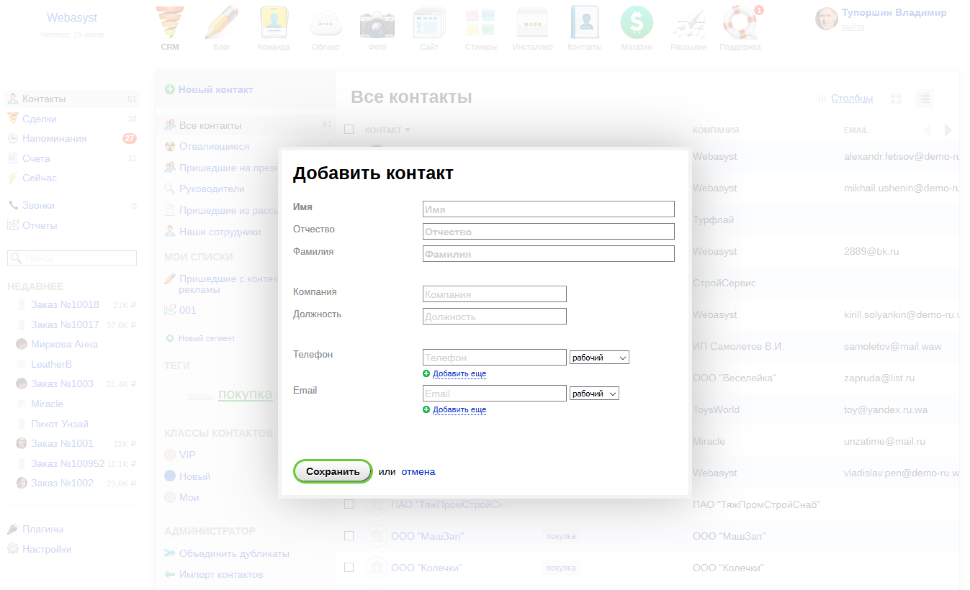 Effective deal management
The stages of transactions and the statuses of tasks associated with them are displayed in a convenient and visual form. It is easy to control the implementation of planned activities. For convenience, information on transactions can be shown in the form of a table or a kanban board of your choice.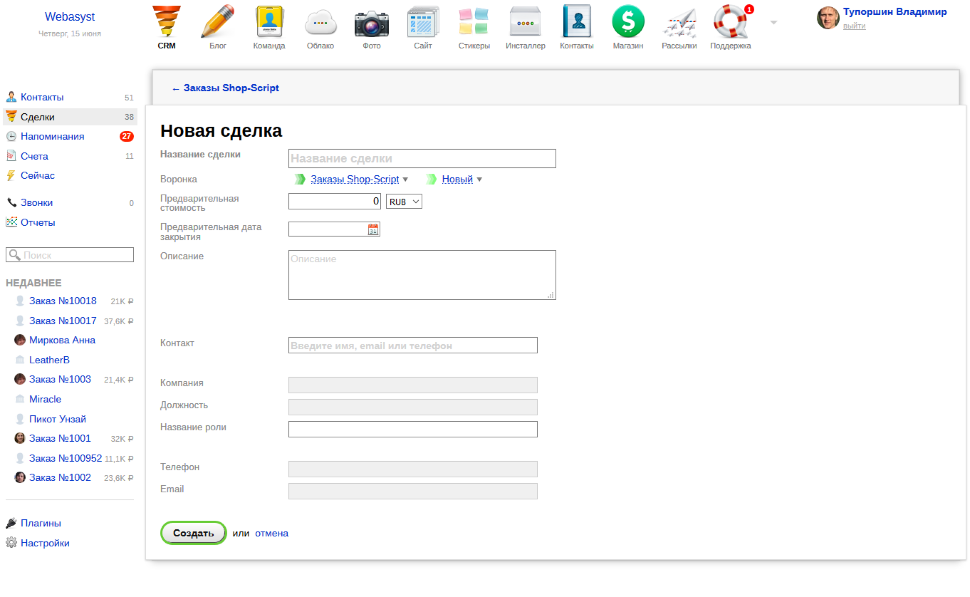 Shop-Script Integration
An order in Shop-Script can form a deal in Webasyst CRM. The transaction is created in the corresponding sales funnel with reference to an existing or newly created contact. You can distribute transactions among managers and set up the necessary steps for processing a transaction. And after the transaction is completed, create reminders with reference to a specific contact in order to plan further interaction with the client.
Integration is supported since version Shop-Script 7.2.4.
Sales funnels
In Webasyst CRM, you will set up any number of sales funnels with various stages of the transaction, just as the process of working in your company requires.
Timeline for all actions
All actions that are saved in Webasyst CRM are displayed in a single event tape with a time reference - timeline. It is easy to view the list of events for an individual client or for a selected transaction.
IP Telephony Integration
At the time of a phone call, you will see the latest information about the client on the computer screen. All call history is stored in CRM. Connect to the Telfin IP-telephony service using the free plug-in and listen to recorded conversations at any time.
Automation of work with accounts
Send links to invoices to your customers with one click. To do this, use one of the built-in templates, adjusting its appearance. Using plugins, connect various online payment systems so that customers can make payments directly from the account page.